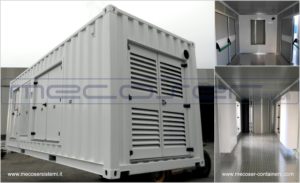 Fifty containers for diesel generator sets, designed and manufactured to satisfy applications where standard commercial generator sets are not suitable, such as mining and offshore applications for Oil&Gas.
Container doors
The container door on one of short sides has been realized as the standard container door for the installation of diesel engine.
A double custom door on the other short side for the installation and the maintenance of anti-noise panels.
Two large service double doors located on the long sides provide an easy access for maintenance of diesel generator set.
A pedestrian door on one of long side to access in equipment control area provided with ventilation system.
Noise reduction system
The generator containers are designed to suit the needs of the specific customer and include a diverse range of equipment through to the soundproofing of large generating sets or pumps to suit the intended use.
residual sound pressure 75 dBA measured @ 7 mt distance from the container structure.
ISO 1CC container dimensions
External dimensions of 20ft 1CC containers type are:
length 6.058 mm;
width 2.438 mm;
height 2.591 mm.
Container rating
Loading characteristics are:
max gross weight R = 13.000 kg.
Load testing, marking and certification:
CSC "International convention for safe containers ".